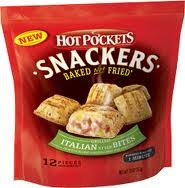 Wanted to give you a head's up on the current wall post over on the Hot Pockets Facebook page:
If you live near a Kroger grocery store, you're in luck. They're giving out coupons for HOT POCKETS SNACKERS in-store on May 21st. So make sure to swing by your local Kroger, grab a coupon, grab some SNACKERS and enjoy. Sharing them is totally optional.
No idea what the value of this coupon might be and and if all Krogers nationwide are participating. Please let me know if you stop by Kroger and what you find.
These are currently part of the Frozen Mega event: Hot Pockets "Snackers" $2.16
Thanks My Memphis Mommy!
- Posted using BlogPress from my iPod