I made a quick stop in the Highland Drive Wal-Mart this afternoon and scored some good deals. Here's what I got: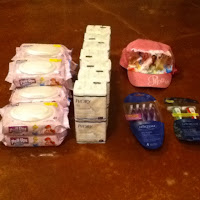 14 Ivory soap 3-pks $0.97 ea - used the last of my $1/1 coupons to make them free (I'm now all stocked up to make my own laundry detergent.)
10 Pull Ups flushable wipes $1.64 ea - used $1/1 coupons on those to make them $0.64 ea - Not the best price (I've seen it posted that at some Wal-Mart locations, they're $1) but my coupons expired in a couple days, so I figured I'd use them while I had them.
2 Noxzema razor 4-packs (one spa 4-blade and one 3-blade) $4.97 and $2.97 respectively. Used $2/1 coupon on each making them $2.97 and $0.97 each. I got one of each so I can try them out and see which I want to get more of later. :)
Clearanced "Princess" baseball cap $3
Total before coupons: $44.40.
Total after coupons: $16.40
Total coupon savings: $28.00 (63%)
- Posted using BlogPress from my iPod